USM SCIENTISTS FROM FIVE CONTINENTS
WORKING ON INTERNATIONAL SPACE PROJECT
By Christopher Mapp
June 5, 2003
(original story)
HATTIESBURG -Scientists from five of the seven continents are currently working on experiments for NASA at The University of Southern Mississippi.
Although entirely coincidental, the vast geographical representation is befitting of its project - the International Space Station.
The symbolism is not lost on chief scientist John A. Pojman, who after a recent revelation said, "I looked around my lab one day and realized that most of the continents of the world are represented here."
A native of Cleveland who now lives in Hattiesburg and New Orleans, Pojman is a professor in the Department of Chemistry and Biochemistry with a longstanding relationship with NASA.
The team is preparing an experiment to test how miscible fluids - those fluids that dissolve in each other - interact without the interference of gravity. The experiment is called "Transient Interfacial Phenomena in Miscible Polymer Systems (TIPMPS)." The models used to simulate the experiment provide information on the fundamental interactions between molecules. The results of the experiment could help researchers better understand processes ranging from the dissolving of plastics to protein crystal growth.
Pojman is joined in his work by fellow scientists Boon Teo, a native of Singapore who recently came to Southern Miss by way of Australia. Representing Europe is Dr. Svetlana I. Evstratova, who hails from Rostov, Russia.
Representing South America is Birsen Varisli, who grew up in Bolivia. Several scientists call North America home, including postdoctoral researcher Dr. Victor Wyatt of Union Church, graduate students William Ainsworth of Mount Olive, Brian Zoltowski of Wausau, Wisconsin, and undergraduates Kayce Leard of Natchez and Daniel Antrim of Waynesboro.
" This has been a very exciting and challenging project," Teo said. "Being able to collaborate with such a wide variety of people from different areas of the world has been a very enjoyable experience."
Through the Internet, Pojman and his international crew continue their work worldwide with other scientists - mostly in Europe.
" We collaborate with a group in France on the simulations of our planned experiments," Pojman said. "I have never met the scientist who does most of the work, who is himself from Russia. The Internet makes all this possible."
Pojman said the fact that "people want to come here from all over the world is a tribute to USM and Mississippi.
" The visitors benefit from the interaction with our students, our excellent faculty and our facilities. But my students and I also learn about other cultures, countries and educational systems. It's hard to say who benefits more."
Russian-born Evstratova said USM has allowed her to further her academic career while learning new and interesting science - as well as meeting new people from around the globe.
" Not everyone has a chance to meet people from around the world. I am able to do this and learn top notch research at the same," she said. "I am very grateful for the experiences that I have been able to be a part of here at USM."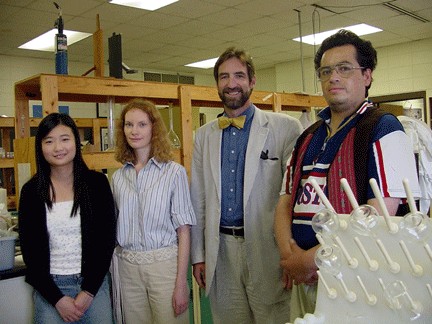 From Left: Boon Teo (Asia & Australia), Svetlana I. Evstratova (Europe), John A. Pojman (North America), Birsen Varisli (South America)
(Photo by Steve Rouse)