Pojman Research Team in the News....
LSU Chemistry Experiment Aboard Historic Suborbital Space Flight
LSU professorís QuickCure Clay can fix anything from a wooden floor to your catís neck
LSU chemistry professor receives grant to study three-toed amphiuma
Pojman Visits National Center for Preservation Technology and Training
Pojman appears on the Radio discussing this Pocket protector collection, being a nerd and anti-intellectualism. Click here to listen to the show.
Pojman featured on LSU www site
Pojman quoted in Chemical and Engineering News about Science in Orbit
John Pojman on the Jim Engster show, discussing his planned suborbital experiment.
LSU Payload Selected for Blue Origin Suborbital Demonstration Flight
Billionaire Picks UCF, LSU and Purdue Experiments for Space Flight
Jeff Bezos' Secretive Rocket Program Picks Science Projects
SUBORBITAL SCIENCE GOES PUBLIC
Feature on WDAM-TV Hattiesburg on our work and the and the Miscible Fluids in Microgravity in Microgravity experiment.
Featured in Grade 3 Science Textbook "Science 2006" published by Pearson Education Scott Foresman
Mystery in a Tea cup -- story about MFMG
Space Station Ingenuity.....Miscible Fluids in Microgravity
Experiment from our lab to be on International Space Station!
Information on the experiment, including audio description.
Story in Clarion-Ledger (Jackson, Mississippi)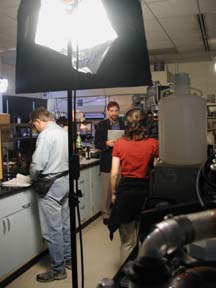 Pojman lab featured in NASA Connect TV show: Measurement, Ratios, and Graphing: Who Added the "Micro" to Gravity?
The show was nominated for an Emmy Award.
The show was aired Dec.12, 2002, 11 a.m. You can see the USM portion on line
News stories about the TV show.
Five Continents represented in the Pojman Lab.